Click here to go directly to the recipe
Our fun Hot Dog recipe made with IBIS soft Sandwich Baguettes isn't of course just for carnival - for delicious Hot Dogs is generally in season all year round. Did you know that the city of Frankfurt am Main claims the invention of the Hot Dog? A butcher there is said to have invented this sausage in 1847, which thus became the forerunner of the famous Frankfurter sausage. But the Hot Dog as we know it today was created in 1867 by a German migrant in Coney Island. Charles Feltmann from Hannover was a cake seller at first - which already makes him directly sympathetic to us. Later, this clever person put a grilled sausage in a bun and commissioned a wheelwright to construct him a handcart with a hotplate, from which he sold this "fast food". In the first year, he reportedly sold over 4000 Hot Dogs, so some time later he opened the Feltman Restaurant and Beer Garden as a restaurant. Later he even had 1200 operators and left a considerable fortune. You have to have good ideas.
And one more thing about the name Hot Dog:
It was probably not always just a rumor that in those days the sausages were made of dog meat. A famous US -American cultural historian points out that German-born butchers in the U.S. have been known to keep "sausage-shaped dogs," namely dachshunds. Well, and this fact has then probably brought about certain associations between German sausages and dogs. In 1893, at the Chicago World's Fair, the Hot Dog had begun its final triumphal march and every year since 1916, an International Hot Dog eating contest has been held in New York City on the U.S. National Day.
All over the world people love Hot Dogs as a snack
Our Scandinavian neighbors are very well known in our country for their Hot Dogs. Who does not know them, the Hot Dog stands of a Swedish furniture store in which the "Hot Dogs" are offered with fried onions, cucumbers and various sauces.
In Denmark and partly also in Sweden the Hot Dog is made with bright red colored sausages, which are scalded or fried. The Danish Hot Dog is mostly eaten with fried onions, chopped onions and sweet and sour pickled cucumber slices and regionally also with red cabbage.
In Germany, on the other hand, the dish is usually prepared with Frankfurter or Wiener sausage. In France, Austria and Switzerland, instead of a handy roll, people usually take a piece of Baguette or a small crusty white bread with a hole drilled in one end.
In the U.S., people love the grill - so it's usually cooked on a roller grill there. This gives the sausage a special flavor. American Hot Dogs are served with special Pickled Gherkins (cucumber slices) and relishes (Sweet Relish, Hot Pepper Relish or Corn Relish), often with mild mustard or with ketchup. A garnish of warm sauerkraut is also possible. A variant of the U.S. Hot Dog is the so-called corn dog, a sausage in a coat of corn dough - comparable to a sausage in a robe. Furthermore, there are many regionally very different variants in the USA, for example with tomatoes, jalapeños, cheese or even chili con carne.
The typical Chilean snack is the completo, a Hot Dog variety served in a bun with sauerkraut or coleslaw and eaten with tomato ketchup and the mildly sweet Chilean mustard. A variant with Avocado mush is called Italiano.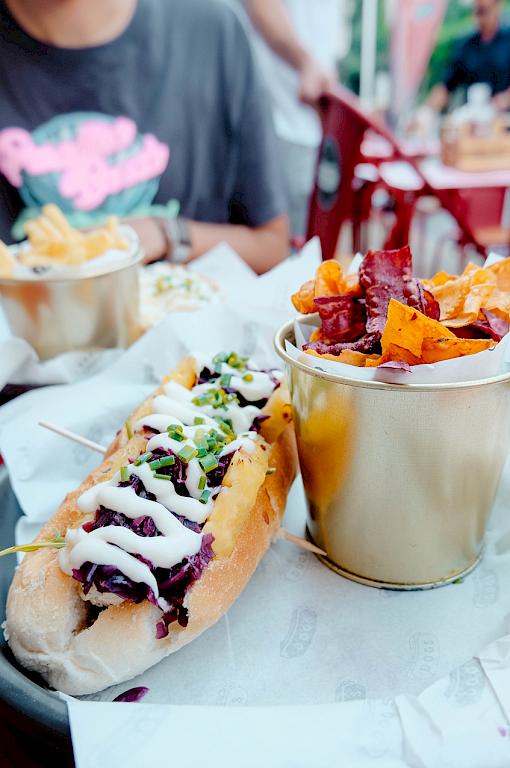 Without sausage for a change - ideas for a vegan Hot Dog
"Eating less meat and animal products" is a popular New Year's resolution. Those who find the conversion difficult could also try their hand at the "Veganuary" this January. Here, the challenge is: to live vegan for a month in January. Every year, the campaign tries to convey that vegan life is not that difficult.
We have noticed that although vegan sausages are now a regular item in the shops, veggie fans like to use a foodstuff for their Hot Dogs that is available in every supermarket: Carrots.
These resemble "real" sausages not only in shape but also in colour.
For such "Carrot Dogs", the carrots are cooked until firm to the bite and then marinated for a longer period of time in a marinade of, for example, teriyaki sauce, liquid smoke, syrup, vinegar, mustard, garlic powder and smoked paprika powder as well as salt and pepper. This gives them a pleasant smoky aroma and they can then simply be grilled.
Top your vegan Hot Dog with gherkins and fried onions and spread some vegan cheese sauce and American dressing on top. The carrot Dog is ready and we wish you a good appetite.
PS: IBIS fans have the opportunity to send their own recipes to us. Write to us about what you conjure up for yourself and your loved ones with and from our products. If you upload a great photo to go with it, that would be great. We will then check and test your recipe and if we think that many people will like it and, above all, taste it, we will publish it on our website. Show us how creative you are. We look forward to your recipe submissions!
You can also get ideas in our "Recipes" section.