It's time to fire up again! our red-hot barbecue recipes for you:
Here we would like to introduce you to some barbecue recipes that you can make in no time at your next barbecue session and that are sure to delight you and your friends.
All recipes come with a video and instructions so you can't go wrong. Do you fancy a juicy double brioche burger - without any meat or do you like it spicy? Then try our "Inferno" grilled breads. We have put together the following recipes for you:
More recipe ideas from IBIS, the culinary explorer can be found here >>>
The barbecue trends 2022
Last year we already reported on smokers, kamado, Dutch ovens and the like and how vegan barbecue is slowly but surely conquering the BBQ world. These trends are still relevant.
This year, too, there are new trends for barbecuing, which is so popular in Germany. Of course, we don't want to deprive you of them.
No matter what you like to grill with or what you like to put on the grill, the IBIS grill products always fit - and if you don't fire up the grill, all our products can also be prepared in the oven.
Just take a look at our "Barbecue product world" and try one of these products at your next barbecue - there's bound to be something for everyone!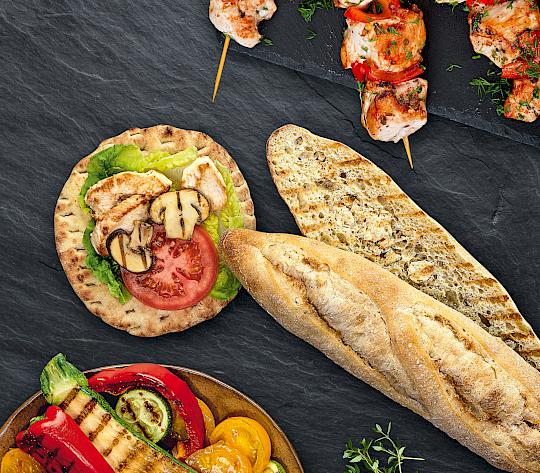 Trends in barbecue
Awareness of the environment and climate is growing among the general population, and alternatives to sausages and steak are appearing more and more frequently on the grill. In addition, the range of meat alternatives is already more diverse than it was a few years ago. In terms of taste, the substitute products now come very close to meat - but of course they cannot replace a real steak. Absolute meat lovers will still not reach for them.
Many people now prefer better quality meat, but the frequency of consumption is decreasing. More attention is paid to husbandry and origin. It is now class that counts instead of mass.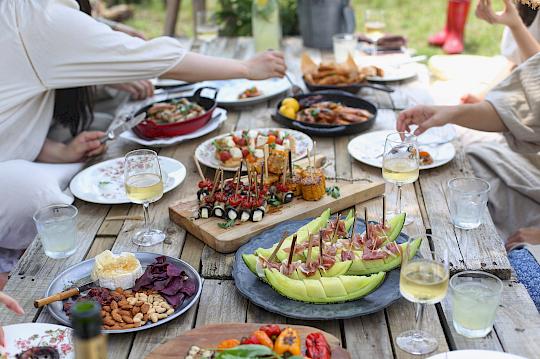 Vegan barbecue - the trend is strengthening
Not only the meat substitutes mentioned above are popular for barbecuing, but also vegan vegetable barbecue skewers. Apart from leafy salads, almost all types of vegetables are suitable for grilling on skewers. Combine them with delicious marinades, fruit and tofu. Classics such as peppers, courgettes or mushrooms can be used immediately and require no further preparation. If harder vegetables such as broccoli, potato or sweet potato are to be put on the skewer, they are best pre-cooked briefly to reduce the grilling time. Vegetables that are very rich in water, such as aubergine, should be massaged with salt beforehand and left to stand for about 10 minutes. The salt removes the excess water from the vegetables and also reduces the grilling time here, so that different types of vegetables can be combined as you like.
Marinated fruits, such as mango, pineapple, avocado and peach, are also a real taste sensation when grilled with vegetables.
Why not give it a try?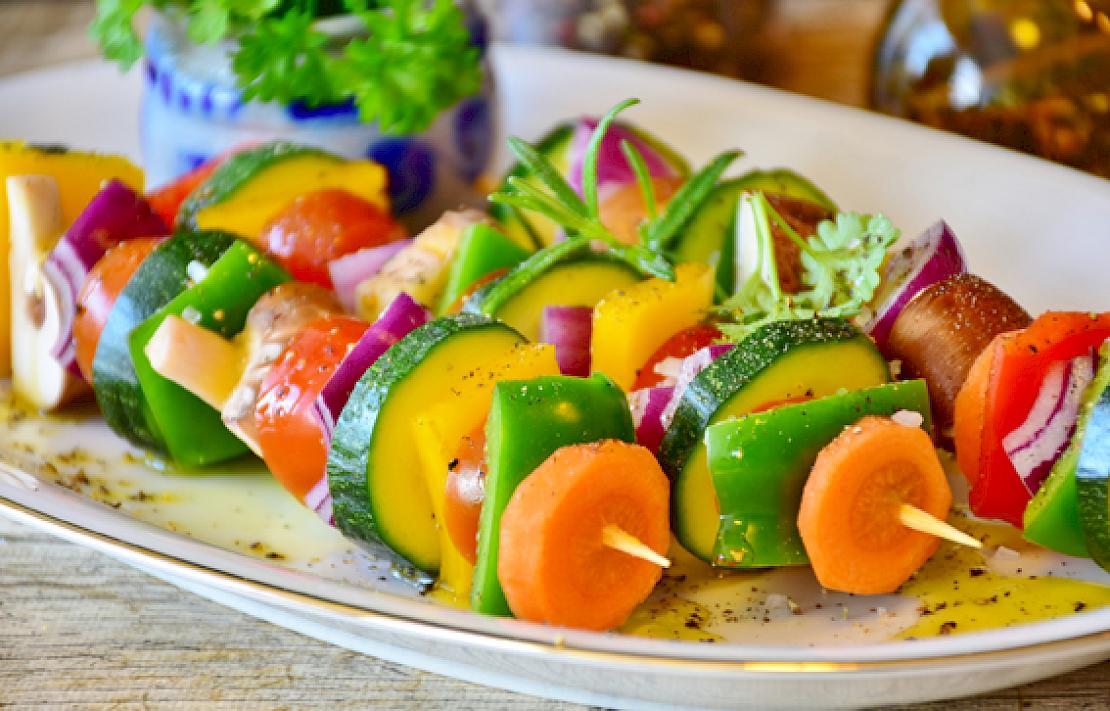 Barbecue on the salt stone
Anyone can grill on a grill. It is really delicious when the food is grilled or cooked on a hot salt block. The salt block, which is usually pale pink in colour, consists of highly compacted salt that withstands the temperature, transmits it and at the same time gives off a fine salty aroma to the grilled food. The salt block is placed dry on the grill and heated slowly so that it does not crack. Then the grilled food is placed on it and releases some of the salt as it cooks. This creates a fine, even crust.
Barbecue on cedar wood
Grilling on a board made of cedar wood is a special experience. The wood sizzles and smokes, giving the food a very special flavour. Grilling salmon on cedar wood in particular promises a very special taste experience, but other grilled food also tastes delicate with the aroma of cedar wood. And this is how it works: Soak the smoking board in water for a few hours and then heat it on the grill until it starts to smoke. Place the food on the grill, cook and enjoy the great mixture of smoke aroma and essential oils of the wood.
Smoking instead of grilling
A big trend that didn't just arrive in Germany from the USA yesterday is, of course, smocking. In 2022, too, people will be smocking for all they're worth.
This is because digital technology has now also arrived. Digital control of the smoke content and temperature makes smocking child's play, and even amateurs get directly presentable results.
A smoker or pellet grill of this kind can therefore be very useful, especially for barbecue enthusiasts who are getting to grill with smoke for the first time.
Community barbecue more in the foreground
Although the Corona pandemic often meant that people could not be together, they were also brought together again on other levels. Community barbecues are very much in this spirit. With the right accessories, this is no problem.
Fire plates can be added to a charcoal grill. The participants of the BBQ stand around the grill and can take care of their own grilled food.
More entertaining are rotating skewers that can be operated by the guests themselves. This way, the communal barbecue is much more in the foreground.