Perfect for Easter brunch
Easter is just around the corner! It's time to start thinking about how you can give your loved ones a little culinary treat for the Easter holidays. We have a great recipe for "Eggs in a basket" with our IBIS Lavash - ideal for a brunch but also for an Easter breakfast.
Eggs are an inevitable part of Easter, colourfully painted and decorated they are often hidden outside in the garden for the little ones.
A few chocolate bunnies are also part of the Easter basket.
Speaking of baskets - our recipe "Eggs in a basket" also hides the eggs in a basket made of crispy lavash dough and hearty bacon. Quick and easy to make and absolutely sure to succeed, so that the yolk is still slightly runny. Served well, these eggs are an eye-catcher on your brunch or breakfast table.
Give the recipe a try!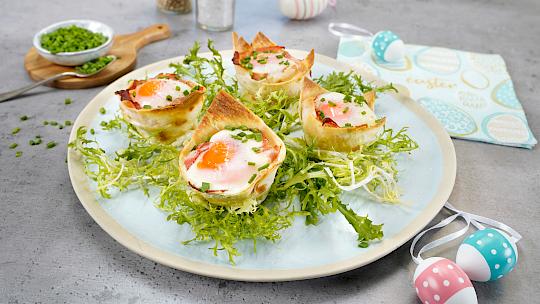 Click here for our recipe video
More creative and quick recipes for Easter
Spring is here and Easter is already knocking on the door. Kids love muffins and with the right ingredients, it's quick and easy to make delicious mug cakes.
Try our simple but clever recipe for sweet Happy Easter Mug Cakes made with IBIS Milk Buns with Chocolate Chunks - they are very quick to make.
The little cakes are often called mug cakes and are prepared directly in the mug in the microwave or oven.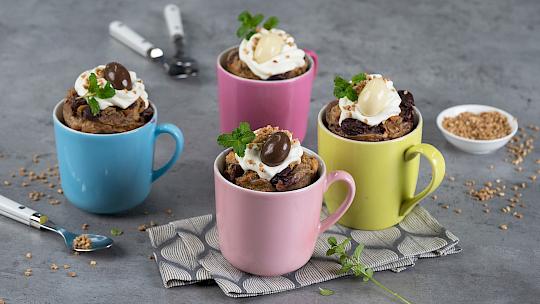 Click here for the recipe video for the sweet Happy Easter Mug Cakes
Easter carrots in the IBIS Magdalenas bed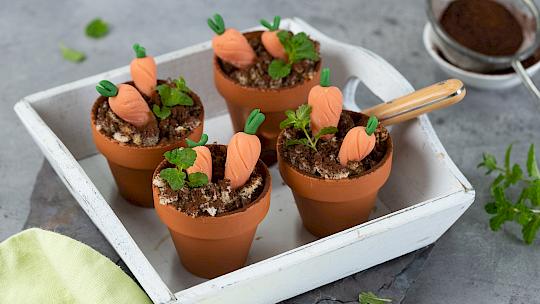 Our Easter carrots in the Magdalena bed are the eye-catcher on the Easter table. Not only do you create a delicious dessert, but also a pretty edible decoration that really makes an impression. In addition to the baking ingredients, all you need are a few small, untreated clay pots. You can also give our baked Easter carrots in pots to your loved ones at Easter.
You can use the clay pots again and again later, for example to bake delicious chocolate muffins in them (but of course also for small pretty plants or herbs).
Click here to go directly to the recipe video
Spicy Happy Easter Mug Cakes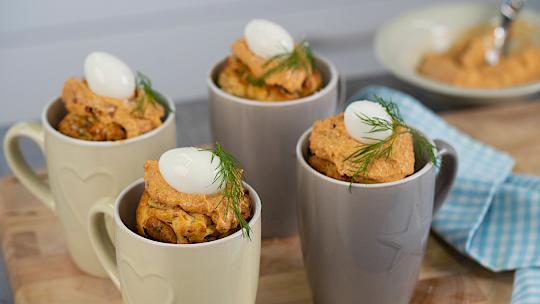 However, the sweet temptations can quickly become too much and too powerful for us during the Easter holidays. That's why we've come up with a savoury recipe for you: Spicy Happy Easter Mug Cakes with IBIS natural milk rolls. Ideal for Easter brunch with the family or as a small aromatic starter for Easter dinner. Fresh spring onions, feta cheese, herbs and aromatic dried tomatoes are used. And again, you don't need a baking dish - just large coffee mugs. It can be prepared in the microwave or in the oven. Give it a try!
To the recipe savoury Happy Easter Mug Cakes